The animated film "ONE PIECE FILM RED" (directed by Goro Taniguchi) exceeded 19 billion yen in box-office revenue and 13.79 million viewers.
Toei, the distributor, announced on January 10.
Eiichiro Oda, the author of the original story and general producer of the film, unveiled a visual commemorating the 19 billion yen mark.
It will be interesting to see if it will be the fifth Japanese film in history to reach 20 billion yen at the box office.
 The film was released on August 6, 2008, and made a good start with an opening of 2.25 billion yen and 1.57 million viewers.
The original character and heroine, the diva Uta, performed in a number of music programs titled "UTA TV LIVE TOUR" at the end of last year.
Her active exposure paid off, as she topped the second half of the 73rd NHK Kohaku Uta Gassen, the first appearance by an anime character in history, and her special Kohaku performance of the theme song "Shinjidai" attracted a lot of attention.
 After the Kohaku Uta Gassen, it was announced on official Twitter that the film would end on January 29, and from January 1, "UTA HAPPY New Year's Greeting 2023" featuring Uta in furisode (furisode kimono), newly drawn by the original author, Eiichiro Oda, was distributed.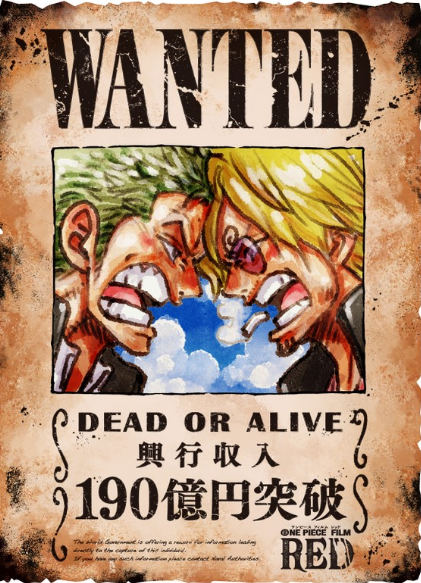 Japanese films that have grossed over 20 billion yen at the box office include "Blade of the Demon: Infinity Train" (released in 2020, 40.43 billion yen), "Spirited Away" (released in 2001, 31.68 billion yen), and "Your Name is. (released in 2016, 25.17 billion yen), and "Princess Mononoke" (released in 1997, 201.8 billion yen).
News of the breakthrough of the 20 billion yen mark is about to be announced.