The opening ceremony of the animated film "ONE PIECE FILM RED" was held in Tokyo on March 13. A total of 12 cast members, including Mayumi Tanaka (67), the voice actress who voiced the main character Luffy, and Kazuya Nakai (54), who played Zoro, took the stage. Kazuya Nakai (54), who plays Zoro, and 12 other cast members took the stage. Toei, the film's distributor, announced that the film had grossed 5 billion yen and drawn 3.6 million viewers after the first screening on the day of the event.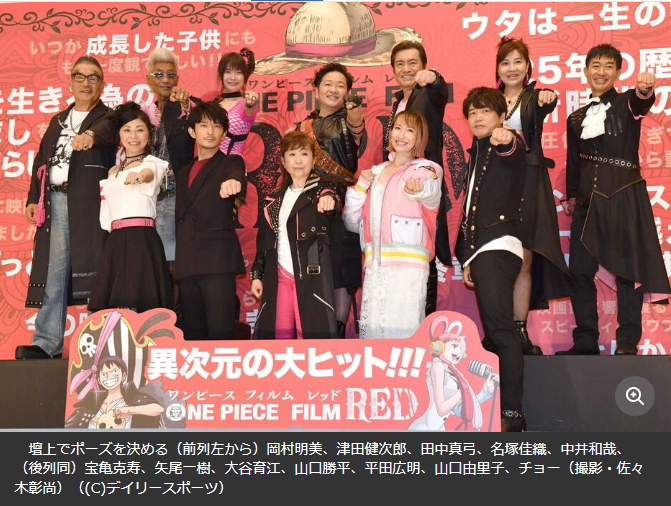 The film had already gotten off to a rocket start with box-office revenue of 2.25 billion yen for the two days of the opening weekend (6th and 7th). It is certain to surpass "ONE PIECE FILM Z" (released in 2012, grossing 6.87 billion yen), the highest-grossing film in the series. Expectations are growing for the series to surpass 10 billion yen for the first time.
 Tanaka was thrilled by the record-breaking success of the film, saying, "It's really going to be amazing. Some people say they have to see it one more time to understand what happened.
 Touching on the fact that the original story has entered its final chapter, he said, "It's been 23 years since I said, 'I will be the Pirate King. I still haven't become the pirate king. Will I be able to become the pirate king? I am looking forward to it. I will never be a pirate," he continued, mumbling a famous line from Pazoo, the main character in the movie "Laputa: Castle in the Sky," in which he also voiced the character. He closed the event by shouting in Luffy's voice, "I am the man who will become the pirate king!
リンク