The Pokémon Company announced on July 22 that it will hold the first "Pokémon Card Game Online Illustration Exhibition" focusing on Pokémon card illustrations, which can be viewed for free from August 10 to October 23 via a web browser.
 The exhibition will consist of three areas: "LIFE," a collection of illustrations in which Pokémon live, "HISTORY," which focuses on the history of illustrations, and "ARTIST," which features illustration artists. Users can select the cards they wish to view and enlarge them. There will also be a section introducing the favorite works and comments of 50 illustrators who have illustrated cards in the past. The site will be available in 10 languages, including Japanese and English.
 In addition, a collaboration project with illustrator Tak Wada, who has created illustrations for games such as "The Legend of Zelda: Breath of the Wild," will also be implemented. Three Pokémon cards designed by Mr. Wada will be released sequentially after August 23.
This is something to look forward to.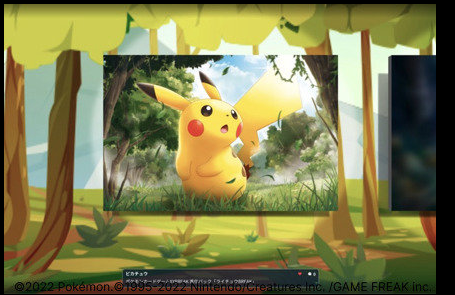 リンク