To commemorate the publication of a dialogue between Gosho Aoyama (Detective Conan) and Eiichiro Oda (One Piece) in Weekly Shōnen Sunday (Shogakukan) and Weekly Shōnen Jump (Shueisha), the covers of the two magazines will collaborate. Weekly Shonen Jump" No. 34 features Monkey D. Luffy and Amuro Toru on the cover, and "Weekly Shonen Sunday" No. 35, released on July 27, features Conan Edogawa and Roronoa Zoro on the cover.
The illustrations were newly drawn, and when placed side by side, they form a single picture, an unusual collaboration. Issue 35 of "Weekly Shōnen Sunday" comes with a postcard featuring the collaboration of the four characters' illustrations, which are connected to form a single picture.
 Both "Detective Conan" and "ONE PIECE" will reach the 100-volume mark in the fall of 2021, and the two top runners in the manga world have decided to cross the boundaries of magazines and publishers to talk to each other.
The first part of the conversation will appear in Weekly Shonen Jump No. 34, and the second part in Weekly Shonen Sunday No. 35.
 Kazunori Oshima, editor-in-chief of "Weekly Shōnen Sunday," said, "It is impossible that it is impossible. Monday and Wednesday's weekly shōnen magazines, which are not supposed to intersect, are now on the cover of just one, single issue! 
And you can also read the first-ever conversation between the teachers that touches on the truth of the two major serials, which are now over 100 volumes and reaching an even higher climax here! We hope that "JUMP No. 34" and "Sunday No. 35" will become great treasures in the lives of our readers. I hope that everyone in Japan will read these two books! commented Mr. Nakamura.
 Hiroyuki Nakano, editor-in-chief of Weekly Shonen Jump, commented, "I am very happy to announce this project, which is sure to surprise and delight manga fans all over Japan and the world. I would like to express my utmost respect for the great work of both artists, who continue to be at the top of their field in the grueling weekly shonen manga series, which has now reached over 100 volumes.
I would also like to express my gratitude for the fact that we are living in this era in which "Detective Conan" and "ONE PIECE" are serialized. Let's continue to support Conan and Luffy as they move toward the great mystery!" he said.
This is a miracle. It's a dream come true!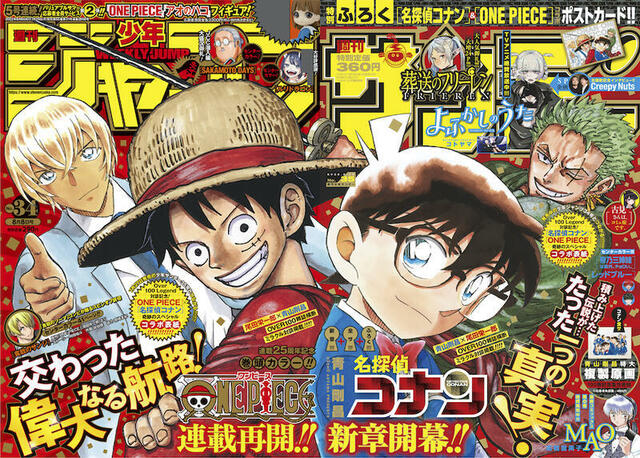 リンク